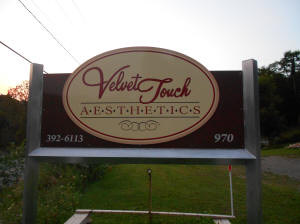 About Velvet Touch
The Experience is about you and it is my personal goal to provide an atmosphere of rest and relaxation. From the time you drive in, kick your shoes off at the door to the time you leave you will feel stress slowly melt away. Whether you relax with a facial on the comfy esthetics bed or a rejuvenating foot soak in the Pedicure Chair you`re sure to leave with a smile on your face.
Hi! I am Selena Taylor Aesthetician and Entrepreneur Of Velvet Touch Aesthetics.
At Georgian College in Barrie, Ontario I studied business for four years. I have held various positions such as being employed at a trust company, an accounting firm, and clothing retail stores. In Addition I became a consultant with a direct sales company specializing in cosmetics and skin care.
I am a Reiki Master and Foot Reflexologist.
In 2002, at Majestany Institute I studied Aesthetics, Nail Technology and Aromatherapathy. Upon graduation I opened Velvet Touch Aesthetics in a one room studio. Velvet Touch is currently in a newly constructed facility nestled in Tracey Mills overlooking the Presque Isle Stream.
My spa offers a variety of services from head to toe. A full range of Babor Skin Care and Cosmetics are also available.